You just purchased Image Attributes Pro. Congrats! Your door to a website with SEO optimized images is now open.
You should have received two emails:
One with the details of your order, the license type and your info.
Another email with your license key and registered email.
If you do not see these emails, please check your spam / junk folder.
Another way to find your license data is in your Account Dashboard.
If you still cannot find it, please contact support and you will receive help.
Before you proceed: Make sure Image Attributes Pro is installed and activated. Once activated, your WordPress plugin list should contain the add-on listed as "Auto Image Attributes Pro". Refer the screenshot below.
Three Ways To Enter License Key
First. Once you activate the add-on, you will see a notice in your admin with a link to the activation page.


Second. You can always visit the plugins list in your WordPress admin and under Image Attributes Pro, the "License Key" link points to the activation page.


Third. In your browser enter the following link directly replacing the domain part with your own domain.
http://example.com/wp-admin/options.php?page=image-attributes-pro-activation
And finally, this is what the activation page looks like: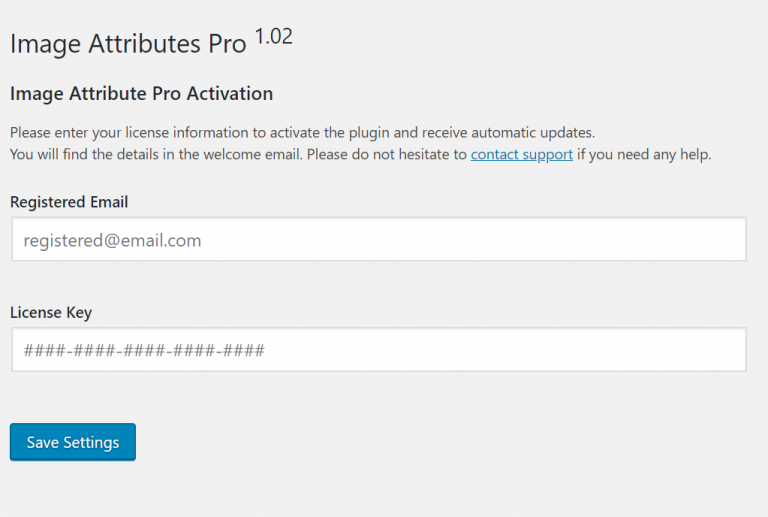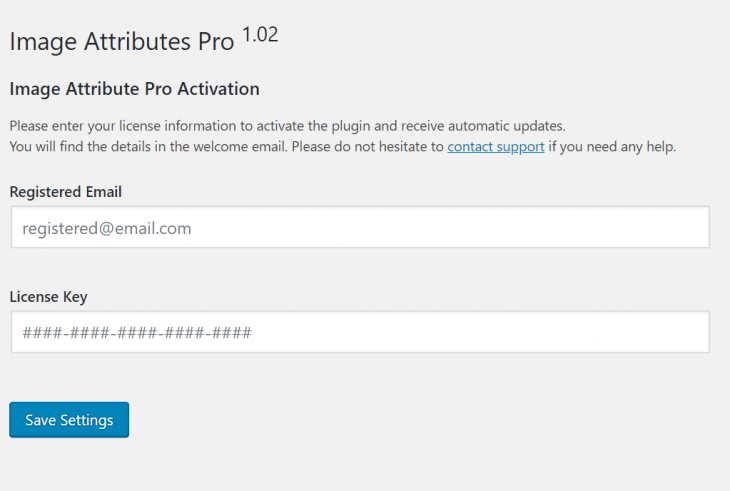 Once again, thanks for your purchase. Hope you take full advantage of the plugin and SEO optimize all your WordPress images.
Was this article helpful?
Yes, thanks! 👍
Not really 👎