With Image Attributes Pro version 4.4 and newer, you can edit your image attributes directly from the Media Library List view.
To access this feature, make sure you are on the latest version of Image Attributes Pro, then head over to WordPress Dashboard > Media.
Media Library Grid View v/s List View
Media Library has two views: The Grid view and the List view. Editing features are available in the List view. You can switch between these views using the selector in the top left of the Media Library as you can see below.
Image attribute columns are available in the free version as well starting with version 4.4 of the Auto Image Attributes From Filename With Bulk Updater plugin. However, free version does not have sorting and editing features.
The new columns for image Title, Alternative Text, Caption and Description can be enabled or disabled using the Screen Options drawer in the top right of your WordPress admin. Refer the image below.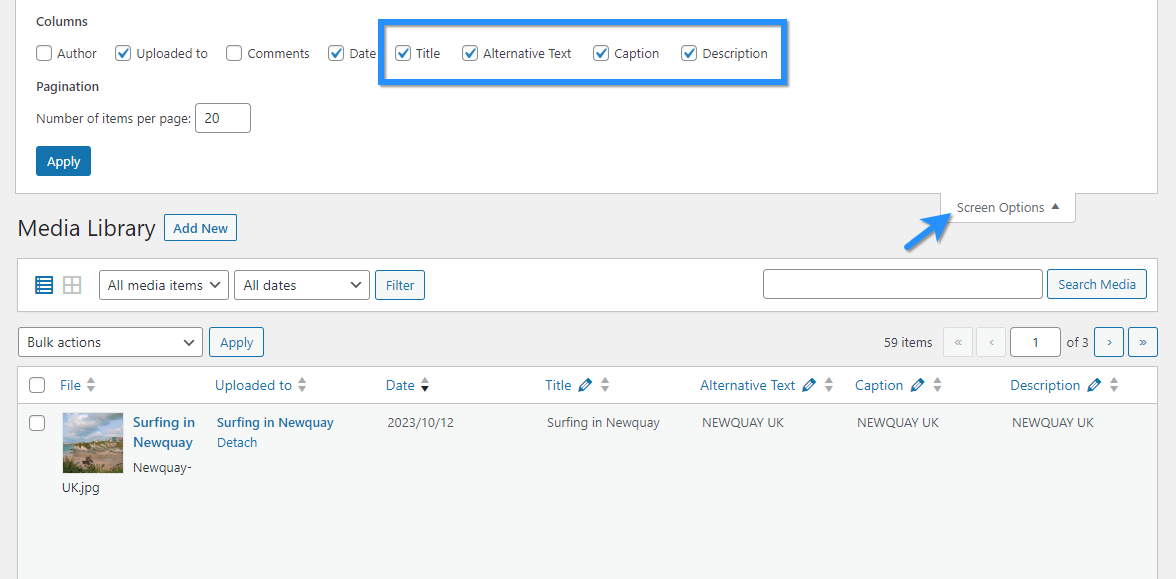 Editing Image Attributes From the Media Library
The newly available Media Library columns for image attributes all include an Edit button right next to it. Refer the image below.

You can either click this Edit button, or simply click any of the image attribute itself to reveal the editing text box.
You can use the Tab key on your keyboard to travel through the attributes and edit them quickly. When you are done, click Save All button to save the changes to the database.
Copy Image Attributes To Post HTML Automatically.
As you might know, WordPress stores image attributes in both the Media Library and also within the post HTML. Image Attributes Pro can help you update both these locations.
To update the post HTML whenever you edit the image attributes from the Media Library, make sure the setting Copy image attributes to post HTML while updating in Media Library is enabled. You can find this setting in Advanced tab > under Miscellaneous Settings. Read more.

Quickly Discover Empty Attributes With Sort
Clicking the title of the column sorts the column, first in ascending order and then if you click again, in descending order. This feature helps you identify which images have empty image attributes and update them in no time.
In the above clip, the Caption column is sorted. This brings the empty captions to the top. You can do the same with every other image attribute as well.
Do not forget to click the Save All button when you are done editing.
Was this article helpful?
Yes, thanks! 👍
Not really 👎