If you wish to use Yoast's SEO Title as image attributes (alt text, image title, caption and description) for the images on your website, you can do so with Image Attributes Pro.
This is very similar to using the Yoast Focus Keyword as image attributes. In this article, let's take a comprehensive look into this and see how you can have your SEO Title used as image attributes.
What Is Yoast SEO Title?
The SEO Title is the title of the page that is displayed to the search engine. It is what you will see as the title for your post when it is displayed in a Google / Bing search result.
It is different from the Page or Post or Product Title. This is normally the title you enter as the Title in the WordPress editor. This is the Title that will be displayed on the page.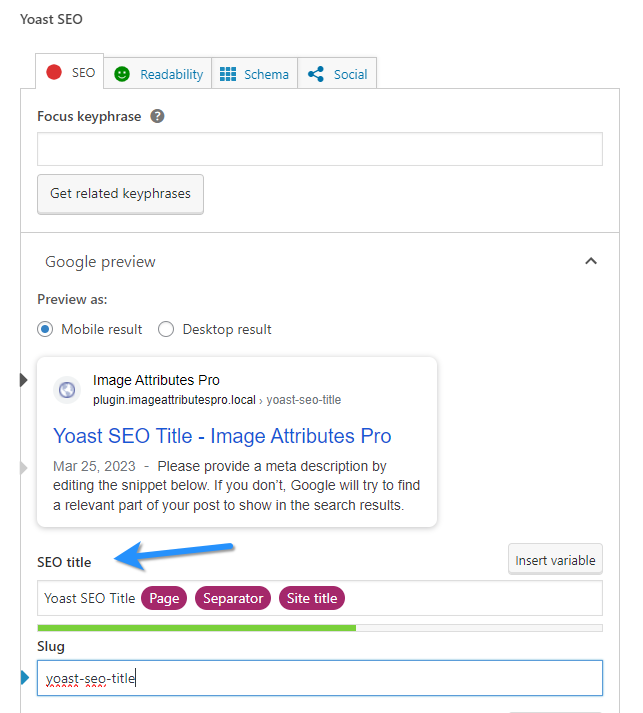 By default, the Page Title will be part of the SEO Title. Usually the h1 tag on the page. And the SEO Title will be the title meta tag on the page.
Yoast allows you to modify the SEO Title so that you can present your post differently to users coming from a search query.
Using Yoast SEO Title As Image Attribute With Image Attributes Pro
With the version 4.2 release of Image Attributes Pro, a new custom image attribute tag was introduced: %yoastseotitle%.
This new tag can be used by itself, or can be combined with other available tags to define a truly custom image attribute. An example of using it as the image alt text is given below.

Simply click the tag and it will be added as the custom attribute. No need to copy and paste. Remember to save the settings.
Now when you upload an image or run the bulk updater, the tag %yoastseotitle% will be replaced by the corresponding SEO Title of the post / product where the image is used.
Was this article helpful?
Yes, thanks! 👍
Not really 👎